Picture this: you work on your innovative business, entrepreneurial idea or prototype related to societal issues in an inspiring environment, together with other entrepreneurs, while being coached by world-renowned experts from successful companies such as ASML, croonwolter&dros and EY. To top it all off, you stand to win prize money up to €20.000,-. Sounds unbelievable? Well, we're here to tell you it's not. The TU Delft Impact Contest offers students a platform to help kick-start their potential start-ups with a broad range of experts in the field. With their help ambitious students will co-create and transform their ideas into viable business plans, prototypes or start-ups.

During the annual TU Delft Impact Contest, which will kick-off on Tuesday the 1st of March, student teams compete in two categories: Ideation (idea phase) and Advanced (working prototype). We spoke with Biosphere Solar and Revolv Space, the respective category winners of 2021. We asked them all about their innovations, how they spent their prize money and what the future holds for their start-ups. Both of them are literally reaching for the sky, that's for sure.
Don't be square; think circular
Siemen Brinksma, Founder of Biosphere Solar, isn't just an entrepreneur; he's an entrepreneur on a mission. "We don't have a shiny website with loads of images on it because that's too energy consuming for a computer server." That should tell you right off the bat how he values energy.
With his driven personality, Siemen jumps right in when we meet with him: "The solar industry is linear, and if we want to achieve a sustainable energy transition it's about time we overcome this mindset." He's talking about solar cells, the most energy intensive component of solar panels, which will be discarded after they've served their purpose.
"We take a new look at things when it comes to technology and bring circularity to the solar market. We want to offer a future proof product," he says.
The disruptive future proof solar panel
The problem with current solar panels is that they can't be repaired once they break, or upgraded once they're outdated. That's why Biosphere Solar is creating a repairable solar panel, one that can be dismantled and reused.
"We are developing a circular and fair solar panel," Siemen explains. Circular because the solar panel can be recycled at high value, repaired or upgraded at its end-of-life. Fair because they avoid human rights violations in the supply chain. "For example, we say no to silicon coming from certain parts of the world, because of the circumstances in which it has been manufactured."
Another unique feature will be its open-source nature, because the blueprint will be made public. Anyone can replicate the product and improve it, just as long as they share their improvements with everyone else. "We're creating a new movement in the industry, bringing disruptive change," he concludes.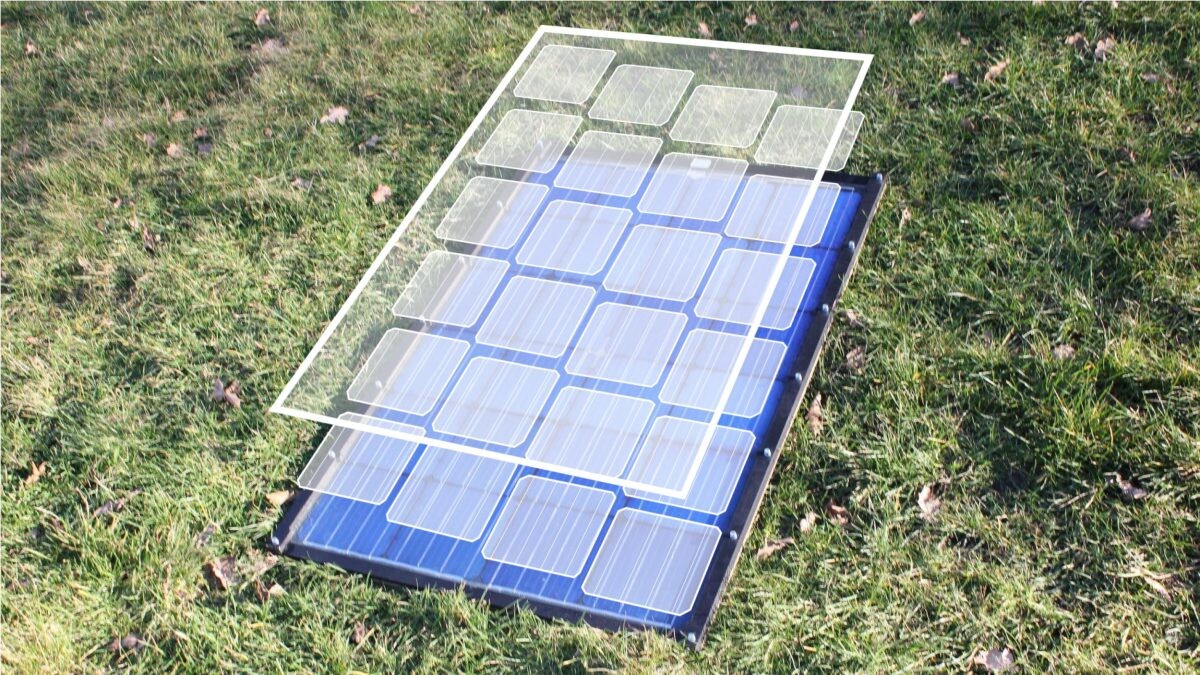 'I'm doing it for the impact'
Talking about winning the Ideation category last year puts a proud smile on Siemen's face: "The prize money was just one of the benefits, the biggest benefit was the exposure we got." It inspired applying and obtaining the TU Delft Maarten de Groot Fund and resulted in partnering with fieldlab The Green Village, located on TU Delft Campus, to test their prototype. It's scheduled to be operational by the end of the academic year.
The Biosphere Solar team is currently working hard on product development, taking their proof of concept to a minimum viable product. Testing will be done at The Green Village, mentioned earlier. Good product quality at a good price and fit with the needs of the market are an integral part of that. "All in all I'm doing it for the impact. If one day all solar panels are circular and fair, I will feel like I succeeded," Siemen states.
Go for it
Siemen calls participating in the TU Delft Impact Contest a 'no-brainer' and definitely puts his money where his mouth is, because Biosphere Solar joins the Advanced category in this years' edition.
Does he have any encouraging words for entrepreneurial students? "If you have an idea for a business, then go for it and take part in the contest. If you don't have an idea but want to try out entrepreneurship, also go for it and take the challenge. Either way: go for it!"